A range of standard and custom industrial and commercial stainless steel linear drainage systems, which are available with a wide range of grates or with a continuous inlet. Solutions can be supplied to suit light to heavy duty applications.
For more info visit our website: ACO Building Drainage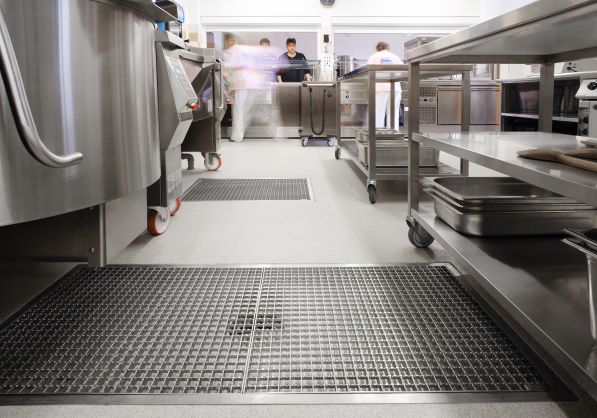 ACO Stainless – commercial stainless steel drainage
A range of versatile and cost effective linear drainage systems for applications where corrosion resistance, hydraulics and durability are required. Stainless steel channels are available in either level invert or sloping configurations and can incorporate corners and branches for added functionality.
System 100, 200 and 300
SlotChannel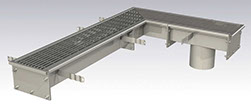 ACO Food – Food & beverage drainage
To prevent the contamination of harmful bacteria, a range of hygienic stainless steel channels have been designed to meet stringent industry requirements. Deep drawn bodies enable complete drainage, thereby eliminating stagnant wastewater; smells and microbial growth. Designs incorporate large radii in the channels to ensure ease of cleaning.
TrayChannels: 200, 300, 400, 500, 600 and 800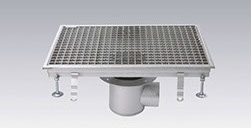 ACO Stainless – Downloads
SYSTEM 100 GRATES
Load Class
Part No.
Length mm
Weight kg
PDF
DWG

5 Star Anti-Slip
Class B
141806
1000
4.3
Class C
141714
1000
4.3
Class C (grade 316)
142131
1000
4.3

Wedgewire Anti-Slip
Class B
142789
1000
4.3

Slotted
Class A
142786
1000
2.7
Class A
142785
500
1.4
Class D
142788
1000
4.0
Class D
142787
500
2.0

Mesh
Class D
141744
1000
3.5
Class D
141745
500
1.8

Mesh Slip Resistant
Class D
142867
1000
5.5

Slotted Composite
Class D
15704
500
1.6

Ladder Antislip
Class D
2174
500
2.6
SYSTEM 200 GRATES
| | Load Class | Part No. | Length mm | Weight kg | PDF | DWG |
| --- | --- | --- | --- | --- | --- | --- |
| 5 Star Heelsafe Anti-Slip | Class B | 142740 | 1000 | 8.8 | | |
| Mesh | Class D | 141746 | 1000 | 5.4 | | |
| Slip Resistant Mesh | Class D | 142868 | 1000 | 12 | | |
| Ladder Anti-Slip | Class D | 2374 | 500 | 6.1 | | |
SYSTEM 300 GRATES
| | Load Class | Part No. | Length mm | Weight kg | PDF | DWG |
| --- | --- | --- | --- | --- | --- | --- |
| 5 Star Heelsafe Anti-Slip | Class B | 142741 | 1000 | 18.7 | | |
| Mesh | Class D | 141748 | 500 | 9.2 | | |
| Ladder Anti-Slip | Class D | 2474 | 500 | 14.3 | | |
| Description | PDF | DWG |
| --- | --- | --- |
| System channel with standard edge profile in ground slab with concrete finish flooring | | |
| System channel with folded edge profile in ground slab with tile flooring – retrofit application | | |
| System channel with solid edge profile in ground slab with concrete finish flooring | | |
| System channel with solid edge profile in ground slab with resin finish flooring | | |
| System channel with vinyl seal edge profile in suspended slab with vinyl finish flooring | | |
| System channel with solid edge profile in suspended slab with resin finish flooring | | |
| SlotChannel with vinyl seal profile in suspended slab with vinyl flooring | | |
| SlotChannel with solid edge profile in ground slab with concrete flooring | | |
| SlotChannel with solid edge profile in ground slab with tile flooring | | |