EzyBrixx™ is a modular, rigid (twin wall) plastic block system that may be used to create a pit of almost any size.
EzyBrixx™ pits are capable of withstanding high loads and in most cases a concrete backfill is not required.
Component blocks are connected by a wedge system and are made from 100% recycled polypropylene. Assembled rings are configured in 150mm high stacking units to create a pit of any depth. EzyBrixx™ modular units allow for customised sizes and shapes and can be made to order and delivered preassembled to site.
A choice of trafficable locking lids and access covers are available to provide security for underground infrastructure.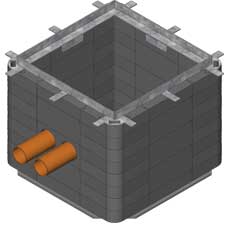 Lids
PowerLok® Lids – ACO's patented PowerLok® Lids provide high securityfor sensitive areas. All frames are secured to

the pit wall.

Standard Locking Lids – AS 3996 designed steel lids and frames are hot dipped galvanised to AS 4680. Lids are secured with 2 x M8 locking bolts into the frame. All frames are secured to the pit wall.
Pits
Wedge Interlock Connection – Unique wedge interlocking system provides a rigid and secure wall.
Conduit Entry – Conduit entries can be created on-site with a holesaw.
Accessories
PowerLok® Tool – Used for locking and unlocking PowerLok® hatch.
Optional Plastic Base – An optional plastic base can be supplied fitted to the pits. Bases up to 1200mm x 1200mm clear opening are supplied rivited to the pit. Bases for larger sizes are supplied loose for easy transport.
Optional Modular Step Ladder – Strong thermoplastic ladder of lightweight construction (4kg/m). Recommended for pits exceeding 1200mm depth. Compliant to AS 1657.
Optional Universal Lifting Key
Universal Plug – Universal plug allows lids to meet IP rating IP4X AS 60529.
Optional Cable Support – Cable supports are useful for suspending cables, shelves and other items on the pit wall.